| | |
| --- | --- |
| William Joiner Institute for the study of war & social consequences | |
About Us

In an era of escalating and devastating violent conflicts across national borders, teachers have few resources or strategies for effectively exploring the human dimension of war and its meaning for our lives today. All too often textbooks and other educational materials gloss over how these conflicts, past and present, have deeply affected individual lives, families, and entire societies for generations.

​The "Humanizing How We Teach about Violent Conflicts in History and Today" workshop was held August 20 and 21, 2015 and is planned for August of 2016 at the William Joiner Institute at UMass Boston, providing an exciting opportunity for high school teachers across disciplines to discuss how to introduce and examine the human dimensions of war and other forms of violent conflict in their classrooms. This workshop has evolved into the Teacher Initiative Program (TIP).

The Joiner Institute will make available its varied archival materials for teacher use as well as provide ongoing assistance to teachers who are interested in piloting material in the forthcoming academic year. This website hopes to foster collaboration and resource sharing between teachers.

This initiative is supported by Mass Humanities, whose grants inspire considered thought, conversation, and action through the humanities. We're happy to participate in their mission to improve civic life in Massachusetts. See more about what Mass Humanities does here: http://www.masshumanities.org/
---
Who We Are

​The William Joiner Institute at the University of Massachusetts, Boston promotes research, curriculum development, public events, and educational, cultural, and humanitarian exchanges which foster greater understanding and innovative means of addressing the consequences of war. Responding to wars in the 21st century, the Joiner Institute has begun to focus on the consequences of the Global War on Terrorism, particularly as manifested in the conflict in Iraq and Afghanistan.

The center is located at the University of Massachusetts Boston at Harbor Point on the 10th floor of the Joseph P. Healey Library. The institute seeks to serve veterans and all victims of war and to create a public space where the issues of war and their human, social, political, and environmental consequences can be openly discussed, debated, and analyzed. The institute seeks to promote the advancement of knowledge and critical thought in these areas and the creation of fresh and enduring solutions.


| | |
| --- | --- |
| Our History | At its founding in 1982, the William Joiner Institute was established to address the pressing and immediate needs of Vietnam veterans who had returned from war to an inhospitable reception from society, neglect from veterans' groups and inertia from federal, state and municipal governments. Indeed, the Institute was named for an African-American Vietnam veteran who passed away from liver cancer associated with his handling of barrels of Agent Orange during the war. William Joiner served as the first director of Veterans' Affairs at the University of Massachusetts Boston before his passing. |
​The William Joiner Institute for the Study of War and Social Consequences
University of Massachusetts, Boston
100 Morrissey Blvd. Boston, MA 02125
www.umb.edu/joinerinstitute
Powered by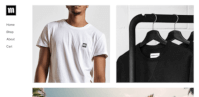 Create your own unique website with customizable templates.